Way Way Back
In 2000 Evan Leibovitch proposed a meeting for some of Toronto's new users of GNU/Linux, which he'd dubbed Newtlug at the time; Evan had asked me for help with an inaugural meeting topic. At his suggestion I did an oral book review of the one I was reading at the time.
Imagine my surprise when I found a copy of that speaker dialogue via the wayback machine.
http://web.archive.org/web/20010723170926/http://tlug.ss.org/bookreview01.html
Images from the Frankenbench
Peter Hiscock gave me a couple of DOA laptops to hack around with. When my SO put the kybosh on reflowing solder in the kitchen oven, I recycled that LCD using a Raspberry Pi and an M.NT68676.2A(HDMI+DVI+VGA+Audio) LCD/LED Screen Controller Board.
Homeostatic cooling with a fluid cooled radiator/heat-sink requires a steady and constant airflow. Cycling forced air over a heated surface more quickly while it is under a thermal load, doesn't really help cooling efficiency much. However a large volume of air at consistent low velocity is more efficient.

That's the theory anyway.

First boots with the vendor supplied cpu cooler. Radiator and fans installed, now it's ready for switch over to fluid-cooling. The single cpu cooler revs at 1100 with only the bios loaded.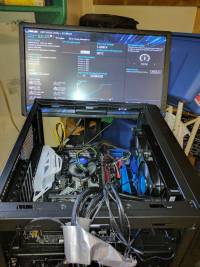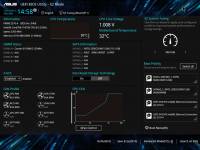 This capture from the bios, after installing the pump unit on the cpu, shows all fans under 900 rpm. Its not quite accurate; pairs of radiator fans are each driven from a same single cpu fan connection.
Sure is quiet tho. Time for some music. Kensington market video snippet courtecy of David Chu @ Kha0s productions.
https://www.dropbox.com/s/66xz3tk3ki9uu8g/Zi6_0655.MOV?dl=0
[SUD]'s Subjective Units of Disclosure
I consolidated my speakers notes on Equitable Harm Reduction into a rough presentation format. I made an animation from that source but forgot I was streaming a sitcom to another monitor. The resulting hybrid of my Harm Reduction notes and an episode of Rules Of Engagement is kind of amusing, considering the subject matter of rules based social engagement.
https://drive.google.com/open?id=1FMhXOwNIz8C8ZeJ5KItAN1I0LYMdDo93
[SIG]'s Special Interest Groups
This is the closest thing to the GTA Linux Users Group Organization's description of its Letters Patent which I am able to locate using Open Source Open Data heuristics.
https://atlarge.icann.org/archive/node-20997
New as of 2022
Ontario has a new corporation lookup tool. It shows the business ID is 1575328 as a Not For Profit.
Corporations GTA LINUX USERS GROUP ORGANIZATION (1575328) TORONTO, Ontario, Canada Status Active Incorporation Date June 12, 2003 Business Type Not-for-Profit Corporation